Best Social Media Marketing Courses That We Bought And Recommend [Updated 2021]
Best Social Media Marketing Courses That We Bought And Recommend [Updated 2021]
What I typically like to do on my spare time is purchase social media marketing courses and other types of courses in my field of expertise to learn, recommend or simply never use again if I don't see the value in them.
The reason why I like online courses  is that I usually learn on the go a specific skillset that I want to improve on without leaving my house.
I've had the opportunity to buy and test out a huge amount of resources online, and I'm excited to share with you my top best social media and marketing courses that you can enroll in to upgrade your online marketing skills across the board; whether your a digital marketing expert or a business owner who wants to improve their online presence and client acquisition using social media marketing.
Let's dive right in!
Best Social Media Marketing Courses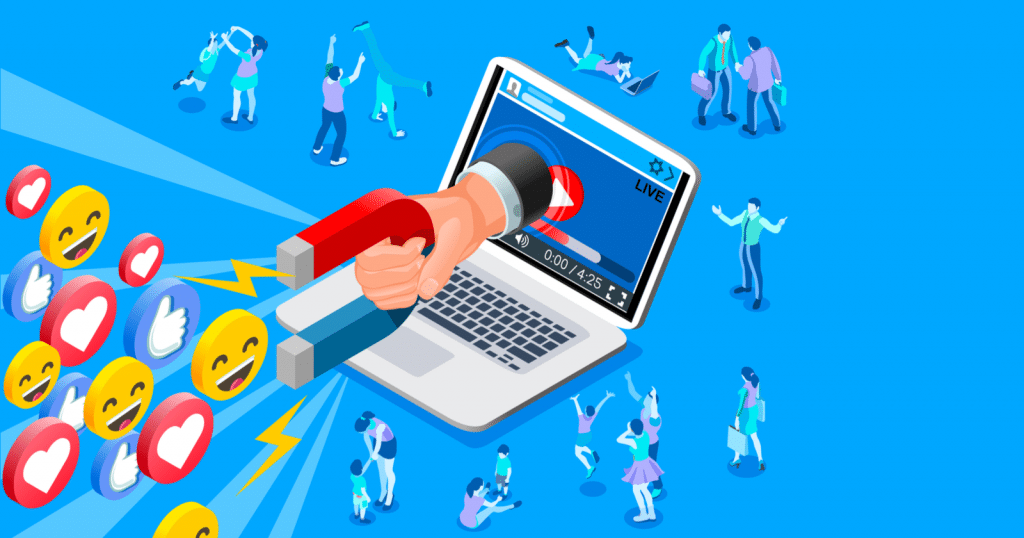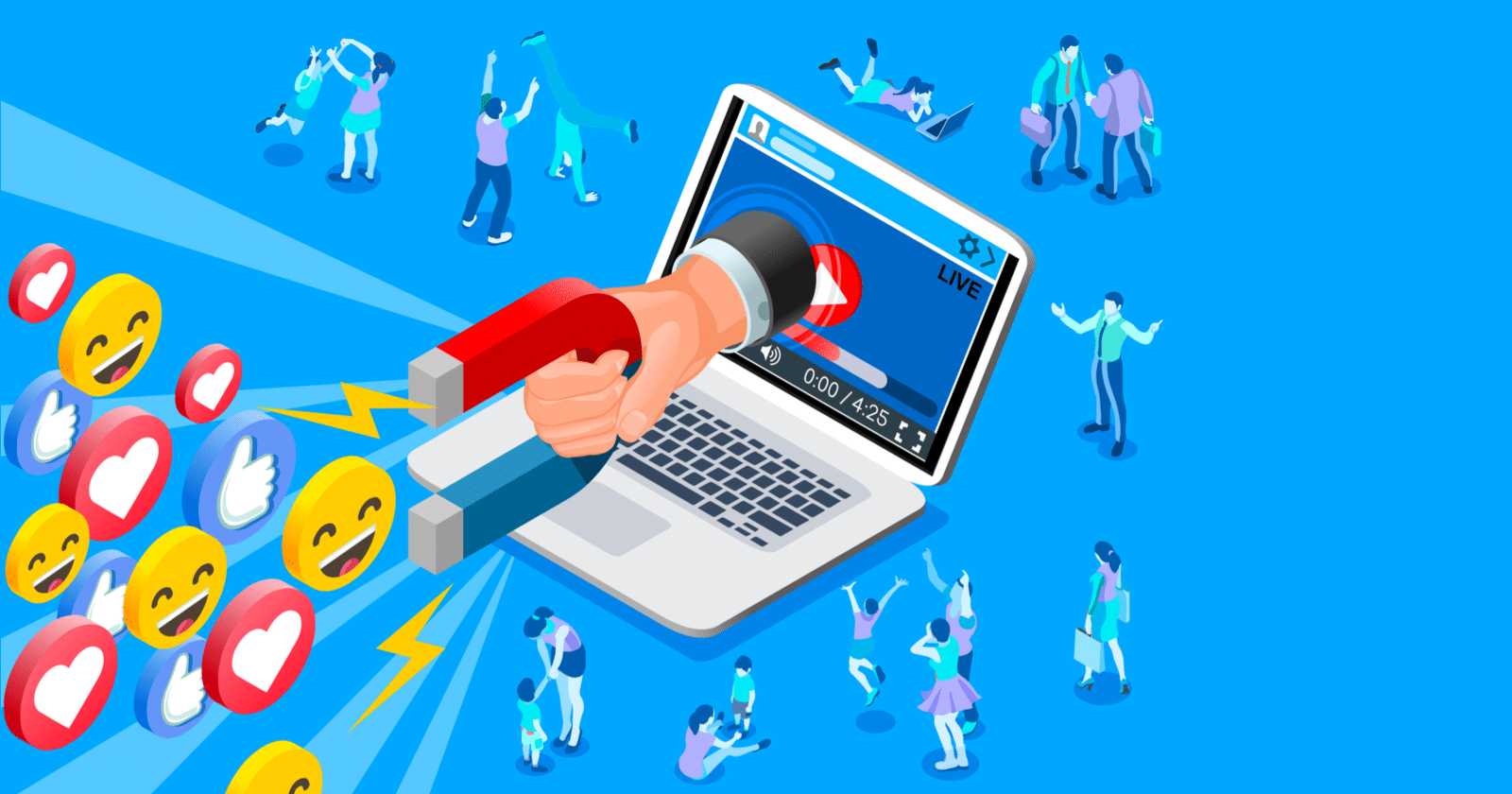 Price: FREE
Platform: Google Digital Garage
This course is created to master the basics of digital marketing with their free course accredited by Interactive Advertising Bureau Europe and The Open University. There are 26 modules to explore, all created by Google trainers, packed full of practical exercises and real-world examples to help you turn knowledge into action.
Google's social media certification has over 300,000 students and provides courses in social media, mobile marketing, SEO, and web optimization. The courses will go into depth about paid and organic search, and how to develop the most optimized web pages, so users can find content easier.
Learning how to optimize pages for search on a popular search engine (for free) sounds like a win-win. At the completion of the course, you'll receive a digital certificate you can add to your LinkedIn profile and resume.
Price: FREE
Platform: Wordstream
PPC University is a free PPC marketing course brought to you from the PPC experts at WordStream, to help you learn PPC. PPC, also known as pay-per-click marketing or paid search marketing, is a complicated topic, and there's so much conflicting information out there, it can be overwhelming for beginners – and even for people who have been doing search marketing for years.
PPC University includes a PPC course module on social advertising. In Social Ads 101, you'll learn the ins and outs of social media advertising, including advice on optimizing a Facebook ad campaign, how to create successful Facebook ads, details on Facebook ad costs, the best targeting options in social advertising and more.
Price: FREE
Platform: Constant Contact
The Social Media Quickstarter offers the step-by-step instructions you need to start building your social media presence across all of the top social networks.
This course is definitely more for beginners. At the end of each lesson, the site gives you 10 relevant blog post resources to refer back to.
As an email marketing software, Constant Contact's course focuses on how to integrate email with social media marketing. It also covers Instagram, Pinterest, Twitter, YouTube, and LinkedIn.
It's a good starting point course.
Price: USD$19.99
Platform: Udemy
Within this course you:
Will Understand How To Set Up A Simple Yet Powerful Marketing Strategy For Your Business Online
Understand How Social Media Marketing Really Works For Your Business
Build A Social Media Schedule And Plan So That You Carry Your Marketing Through To Its Desired Objective
Understand The Social Media Platforms And How They Can Be Used
Write Blogs And Articles That Get Viewers To Take Action
Demonstrate That You Understand How Email Marketing Works
Master The Basics Of Search Engine Optimization
Create A YouTube Marketing Channel And Learn How To Produce Film And Edit Marketing Videos
Create A Professional Social Media Profile Image Using Just A Smartphone
If you find that you can brush up on your social media marketing skills, this is an excellent place for a great price. Most classes are flexible to your schedule and don't require textbooks. Plus, I've found that courses keep things engaging with diverse content and relatable language, so it's all about finding the one that's right for you.
It's a med-level social media marketing course.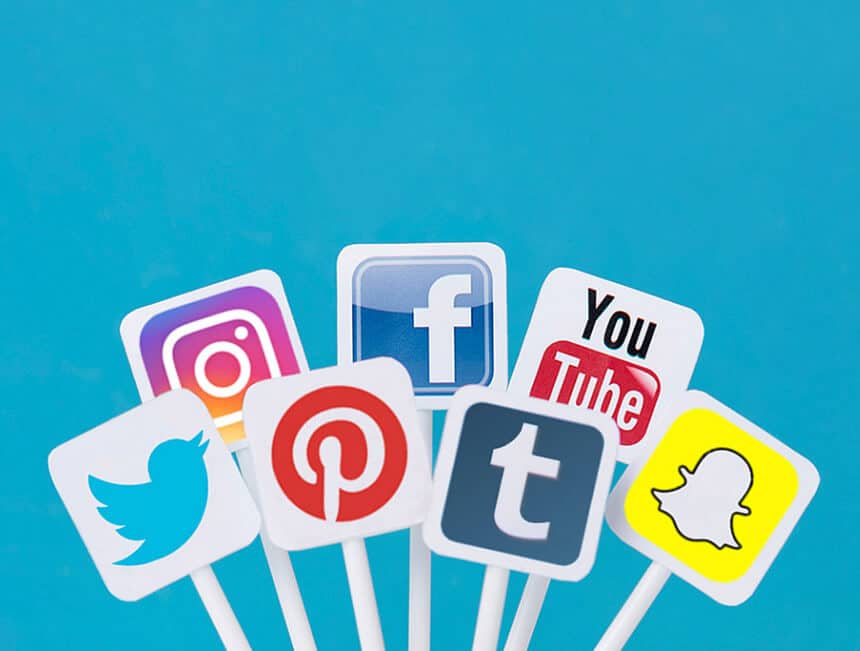 Price: USD $97
Platform: Boot Camp Digital
6+ hours with over 60 training videos
Real-world examples and demos
Beginner to advanced topics
Access for 1 year
Downloadable checklists, templates, and tip sheets
BONUS: Digital Marketing Tool Reviews
BONUS: High-Impact Training
Over $1400 in partner tool discounts
Digital Marketing 101 by Boot Camp Digital is an amazing, video-led training that takes you on a deep dive into the basics of digital marketing and using it for social media. This is a beginner-level training and can be completed in six hours.
Boot Camp's clientele includes Nike, NASA, GE, and Georgia-Pacific, and the platform gives buyers unlimited access once purchased. It provides a digital marketing template, ROI information, benchmarking, and a bonus free digital tools course.
It's on the top of my list!
Price: USD$20 (it varies)
Platform: Coursera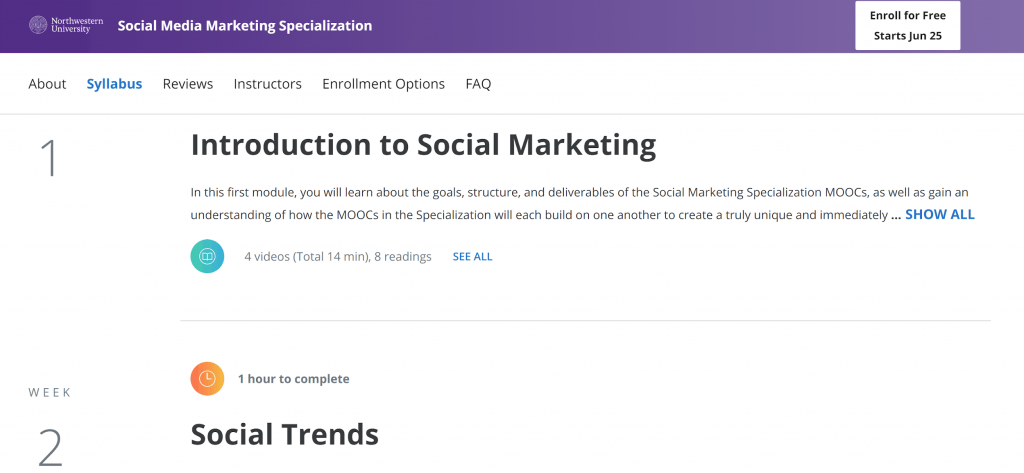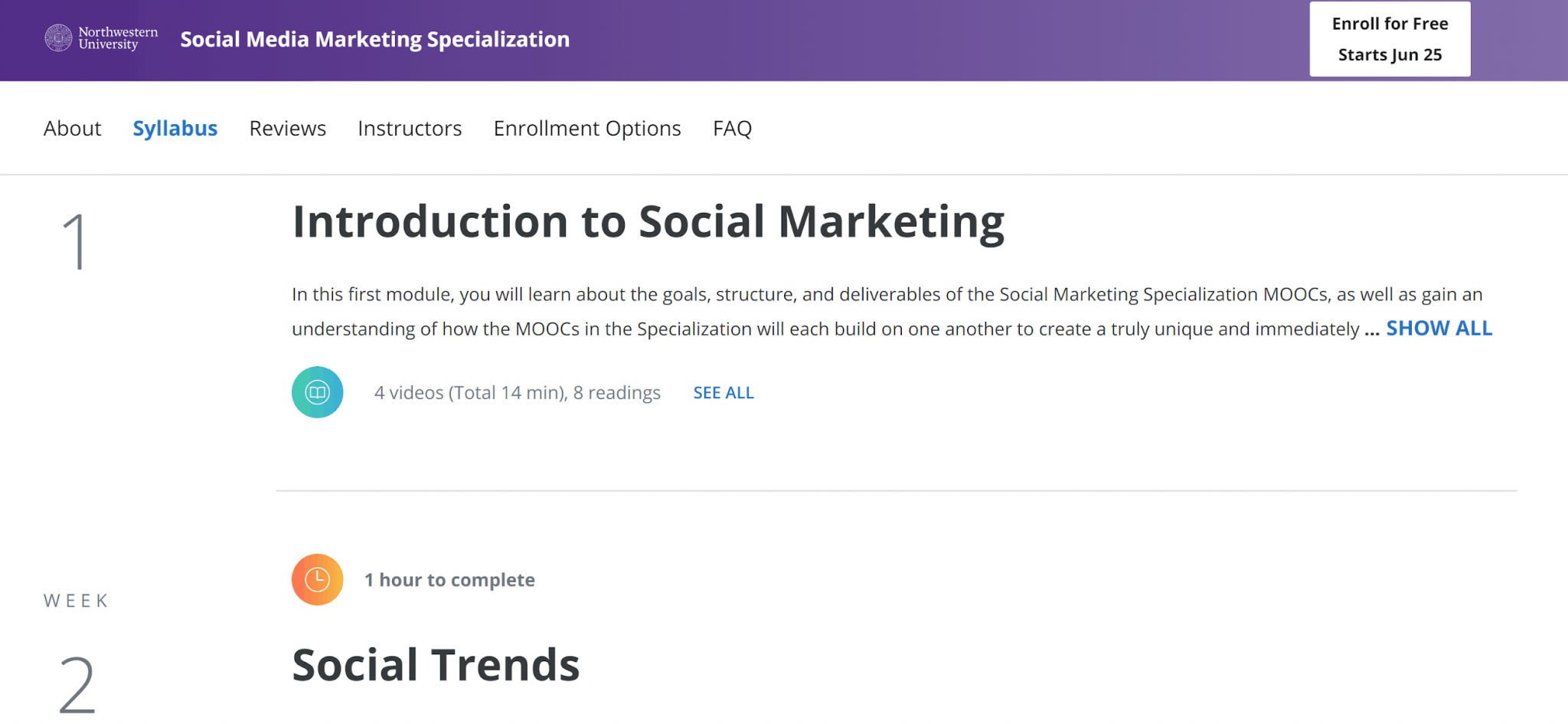 This course goes behind the scenes so you can learn about social media marketing from a business viewpoint and create your strategy accordingly. It covers social marketing, social trends, the business of social, and more.
There are nine hours of course content, and it's suggested that students do about three hours a week, to complete the course in less than a month. Course content includes both videos and reading material.
The course isn't just about skills, but about context. Students will learn about the digital revolution, the impact of big data and much more.
Language doesn't have to be a barrier to taking this course – there are subtitles in English, Spanish, Japanese, and Arabic.
You can audit the course for free, but paid learners get additional information and a completion certificate. The class is more expensive than some of the other options, but there's a money-back guarantee during the first week.
Price: USD $46
Platform: Fiverr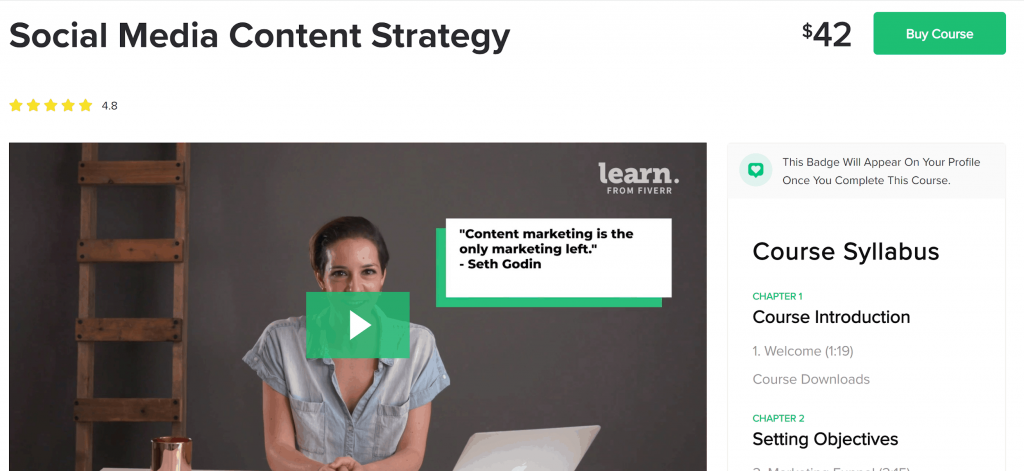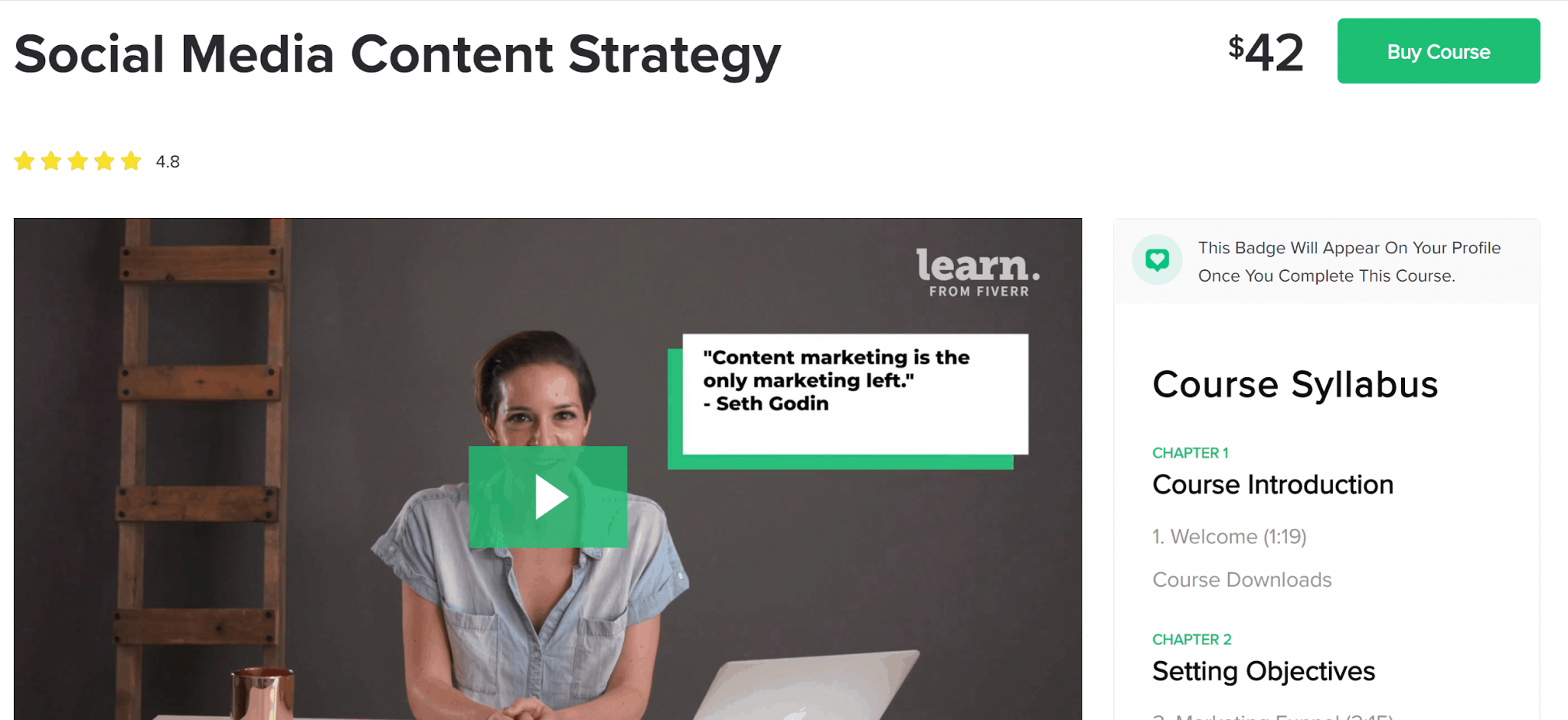 The course is delivered over 23 videos, which contain about an hour and a half of content in total. It includes information onsetting your objectives for social media marketing, identifying your audience, defining and executing your strategy, and more.
There's a summary and quizzes at the end of each section, plus a final quiz so you can make sure you've really integrated that knowledge. This course is less expensive than most others, and there's a 30-day refund window if you don't complete it.
When you complete a course, a badge shows on your Fiverr profile. This can arguably help you win more gigs.
The course includes a section on empathy mapping, a tool that can give you more customer insight.
This is a practical course, helping you to create your own strategy as you work through it.
Price: USD $49
Platform: learning.ly
This course is ideal for businesses new to social media or for marketers who want to rejuvenate their existing social media strategy.
The course discusses how businesses use social media; social media strategies for public relations, brands, small businesses, and nonprofits; and which tools are best for each type of business. Social Media 101 gets you off on the right foot by helping you map out a manageable social media strategy, a plan for each individual tool, and a roadmap for tracking analytics and integrating your tools. The course includes worksheets and resources to help you plan for long-term success.
This is mainly a video-based course, with some worksheets and resources. It helps you lay the foundation for social media success so you can use the tools, strategies, and techniques that are right for your business
Learn to create a manageable social media plan for any business
Discover which tools are the best fit for your business or organization
Create a social media plan for small business, brands, and nonprofits
Identify the role social media plays in public relations functions
Outline a content marketing plan to boost digital marketing efforts
Apply techniques for promoting, integrating and automating your social media efforts
Craft an analytics plan to track what is working and what is not
Comes highly recommended especially for local business owners.
Price: FREE (must apply first)
Platform: Google
This is course a practical experiment, if you're in for a challenge!
Online Marketing Challenge is a unique opportunity for students to get real-world experience creating and executing online marketing campaigns for real nonprofits using a $10,000 USD monthly budget of in-kind Google Ads advertising credit through the Google Ad Grants program.
This global academic program brings two worlds together, partnering students and nonprofits, to support digital skill development and drive positive change around the world.
You have to be a higher education student to participate in this challenge.
Ad Grants Online Marketing Challenge (OMC) is open to higher education students from undergraduate or graduate programs, regardless of major.
Students must form teams of 2-5 members and register under a verified faculty member, lecturer or instructor currently employed by an accredited higher education institute. Google will partner student teams with select nonprofits that are a part of the Ad Grants program and have opted in to participate in the Challenge.
This is how it works:
Student teams of 2-5 members review Online marketing trainings, build their digital skills and pass the Search Certification Exam and Measurement Certification Exam.
Student teams partner with an Ad Grants nonprofit, meet with the organization to understand their cause, audience and goals, evaluate their existing campaign structure and performance, and develop a comprehensive digital marketing strategy.
Using the free Google Ad Grants Google Ads advertising budget — up to $10,000 USD per month — student teams develop and execute online advertising campaigns over the course of at least 4 weeks to help drive conversions for their nonprofit partner.
At the end of the partnership, student teams complete a Post-Campaign Analysis and deliver future recommendations to their nonprofit partner to help them continue to thrive online.
Student teams that demonstrate strong Google Ads knowledge, develop a thorough online marketing strategy, execute optimized Google Ads campaigns and provide a post-campaign analysis with future recommendations for their nonprofit partner will receive a personalized certificate from Google recognizing their academic achievement and social impact. Top performing teams also have the opportunity to submit their story to be featured in Google's Social Impact Spotlight Series, as well as Hangout on Air with Googlers near and far.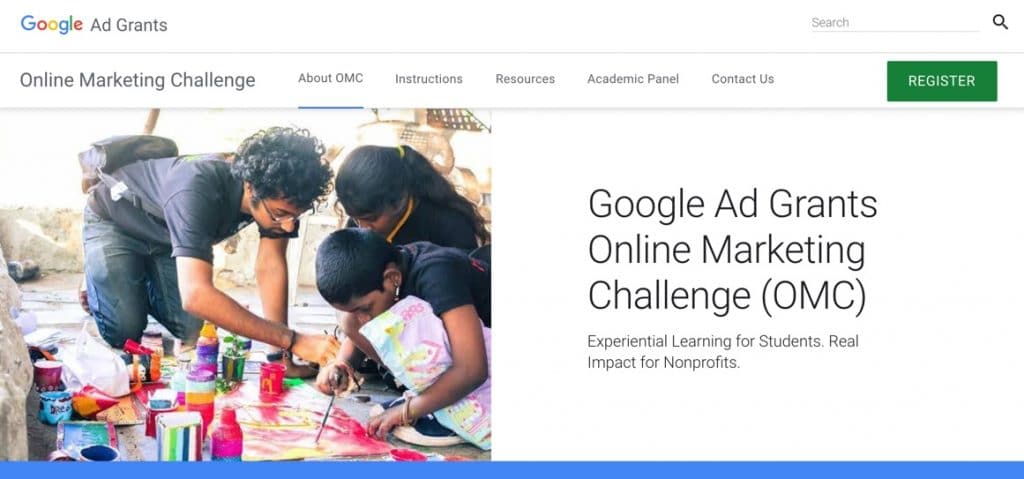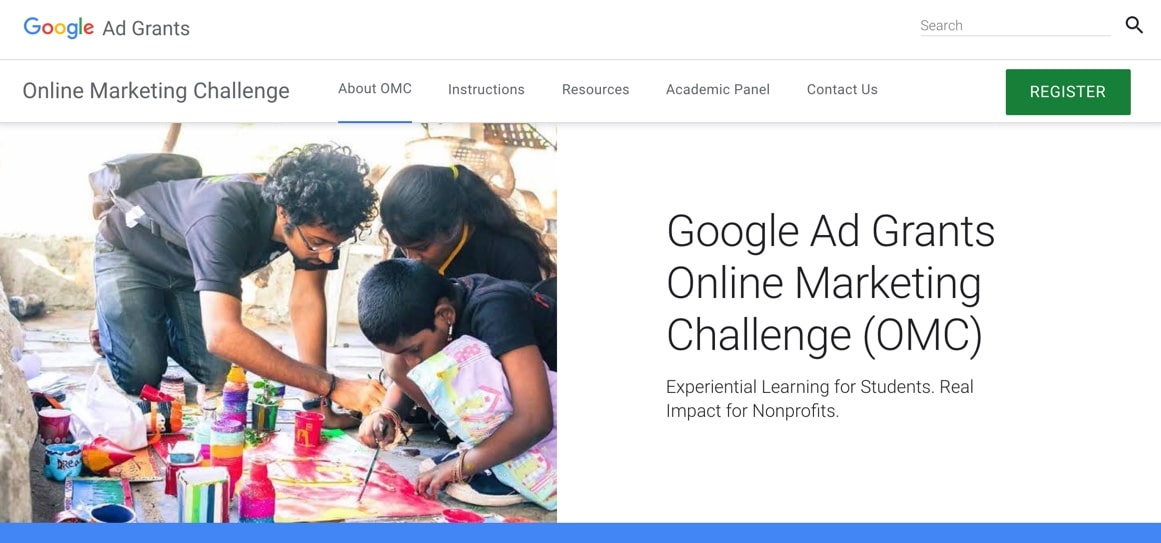 Learning the most effective social media marketing tips and using them correctly from the beginning can give you the extra push you need. And now it is easier than ever to take one or more social media marketing courses online, from the comfort of your own home.
Mark Cuban once said, "Learn, learn, learn. The greatest competitive advantage is knowledge."
It's time to invest in yourself because that's the highest ROI you can make.
↓↓ Expert social media marketing that gets you more clients and more revenue ↓↓
Please follow and like us: