Best Free Social Media Management Tools for 2021
Best Free Social Media Management Tools for 2021
In this day and age more than ever, your social media presence matters to your prospects
People turn to social to learn more about your brand, what you do on a daily basis, and how your products and services stack up to your competitors.
The problem is there are so many social media platforms from Facebook, SnapChat to TikTok so managing your accounts can get a little too cumbersome. If you want your social media marketing to be effective, you'll need to invest in the right tools for the job. Tools that help you manage and optimize your posts.
Let's dive right in!
Best Free Social Media Management Tools for 2021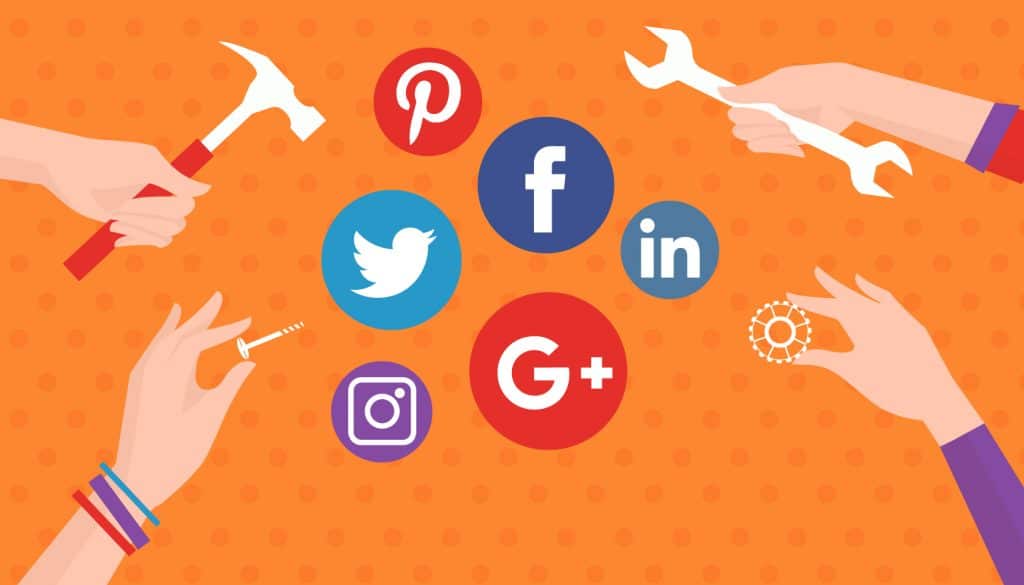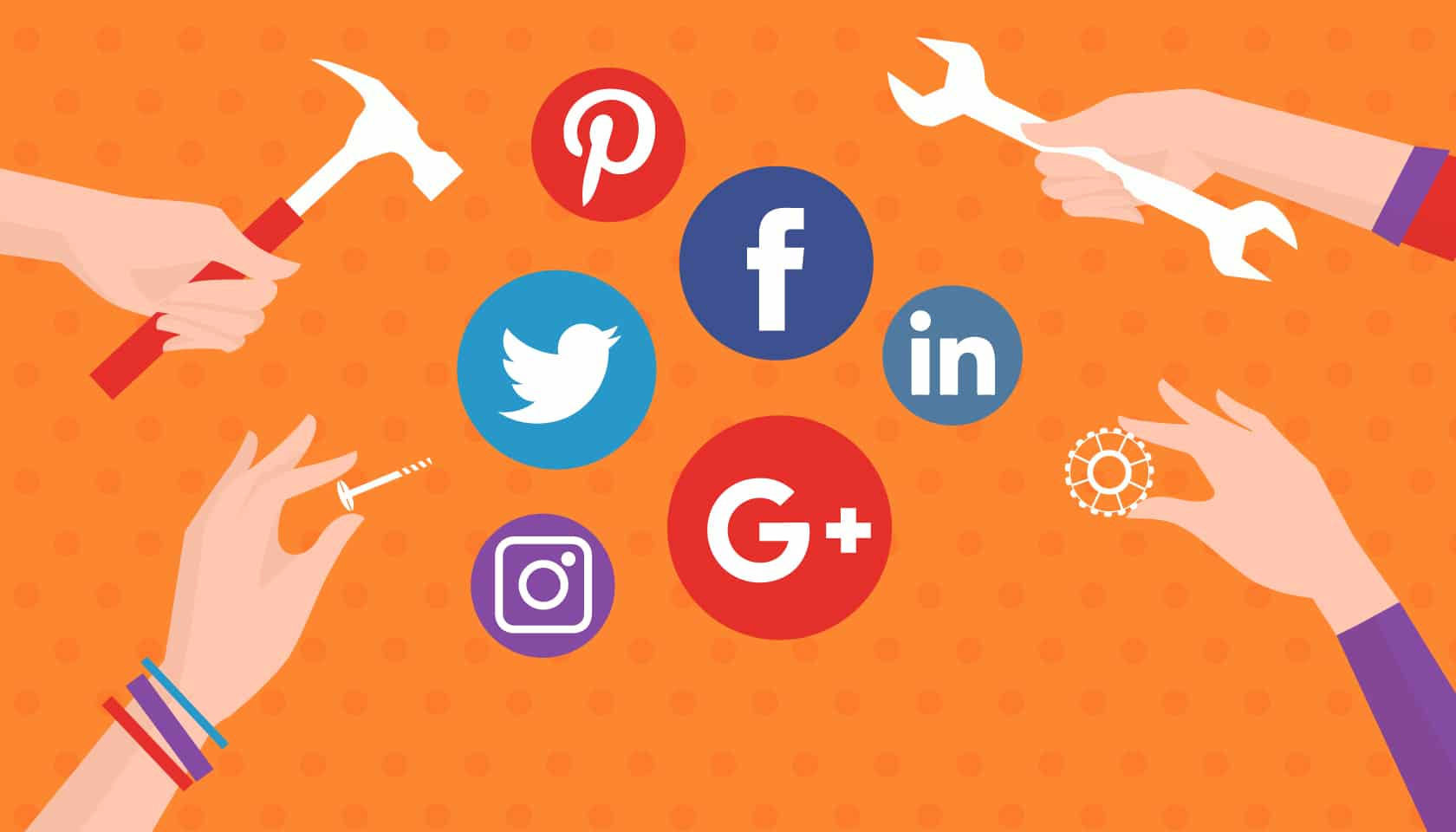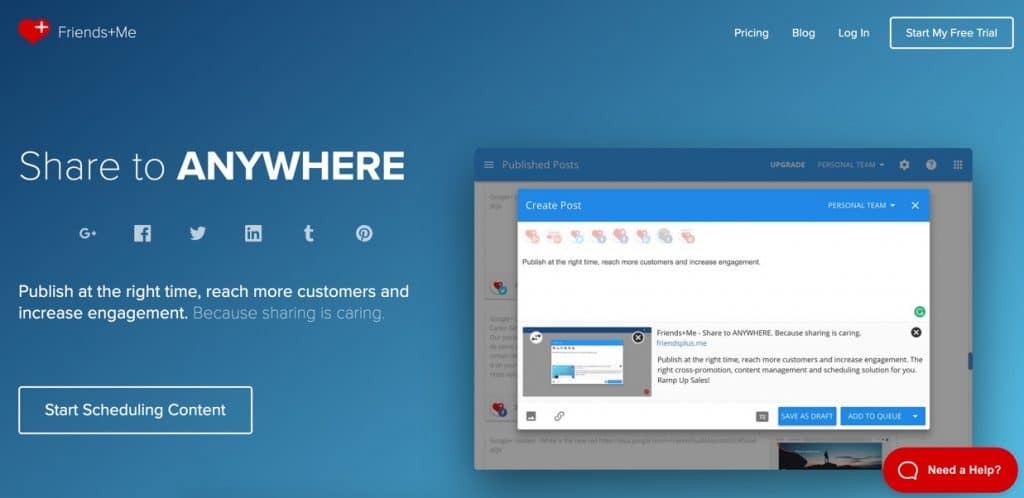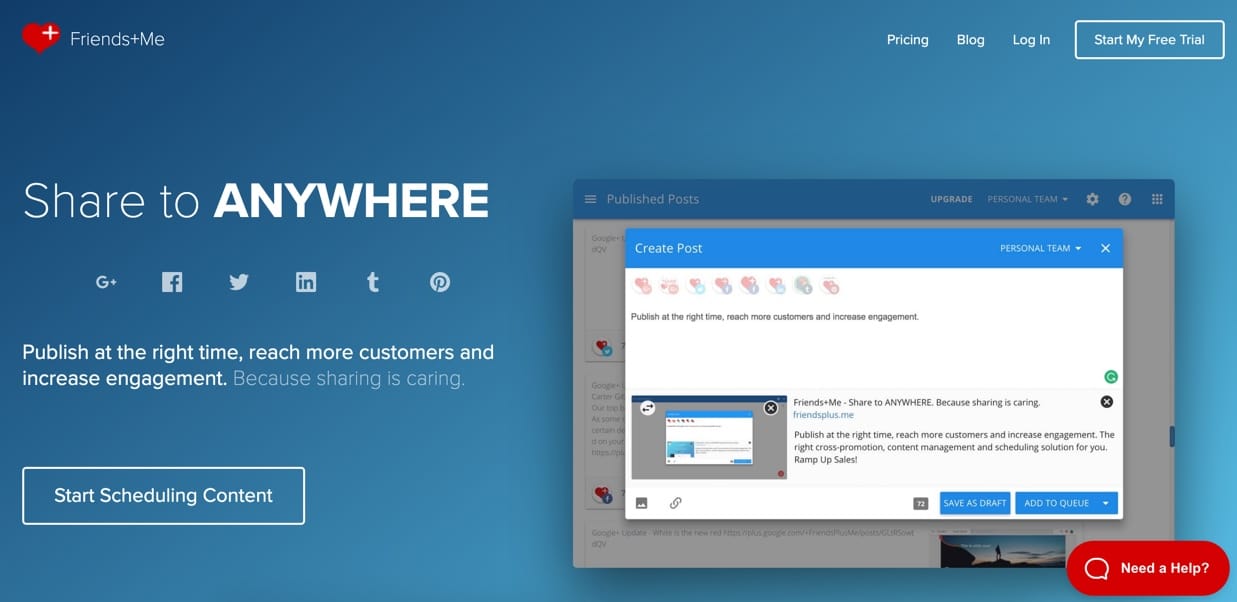 Friends+Me is a fantastic platform that mainly focuses on the creation of great content to share, that's the best thing you can do to increase your brand visibility on the Internet. It also supports many other social platforms such as LinkedIn, Twitter, Facebook, and Tumblr.
They have a free plan that allows you to schedule five posts at a time, and they even offer you standard support services. You can also integrate with Pinterest and Instagram, but you are required to upgrade the service to do so.
Pinterest and Instagram are supported as well, but you will need to upgrade. Plans range from $7.50 to $216 depending on if you decide to utilize monthly or annual billing.
Main Features:
Mobile Applications: Work from anywhere with our mobile iOS and Android apps
Browser Extensions: Save content from anywhere on the web for later
Desktop Application: Save browser tabs, use our MacOS, Windows, and Linux desktop apps
Content Cross-Promotion: Publish once, save time with cross-Promotion of Google+ posts
Draft Support: Make your posts perfect, take the time and publish when ready
Team Support: Invite your co-workers and friends to help you to publish great content
Link Shortening: Track your posts success
Bulk Schedule: Schedule bulk of posts with just with one click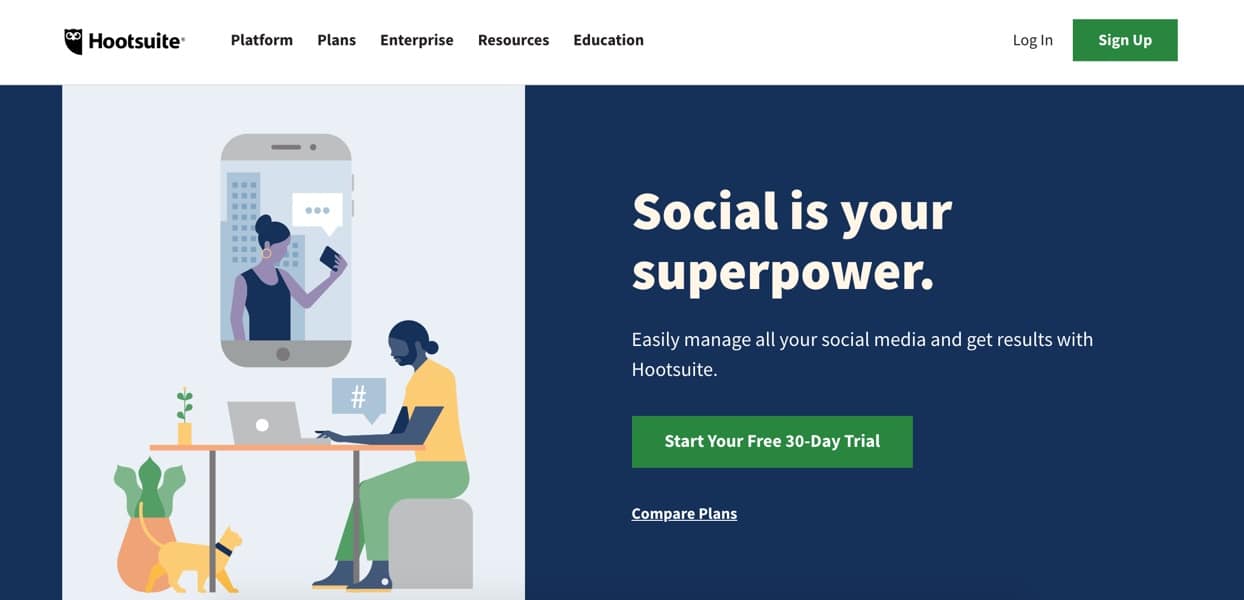 Hootsuite is a simple but very powerful social media marketing tool for the average social media marketer. You can use Hootsuite to schedule posts in advance on a number of different social platforms. Its analytics tool lets you measure content engagement, so you understand how your campaign is performing.
Hootsuite – probably the most popular out of all the tools mentioned in this article – also has a relatively inexpensive paid option for businesses.
With more than 18 million customers, Hootsuite delivers the global scale and insights you need to succeed with social—whether you're managing a small team or expanding your social brand across hundreds of locations.
Hootsuite's open platform integrates with tools you already use—like Dropbox, Google Drive, Salesforce, and Adobe. Plus, dive deep and find fresh insights with social analytics integrations and apps including Brandwatch and Talkwalker.
So what does the Hootsuite free plan include?
This option is decently robust with the ability to:
Manage 3 social profiles in one place
Schedule 30 posts in advance
Generate leads with social contests
The free plan also includes basic analytics for tracking followers and various growth and content statistics and two RSS feed integrations. Not bad at all for a free option.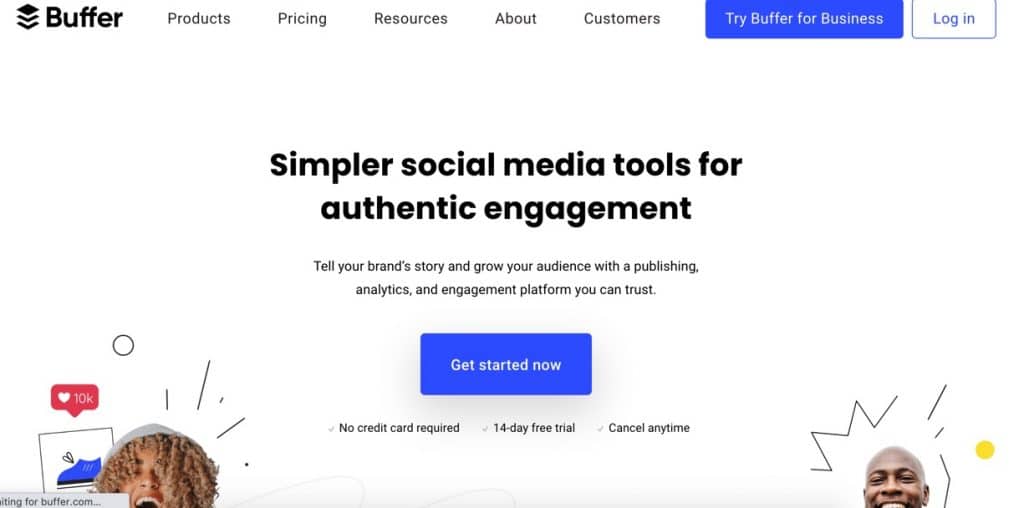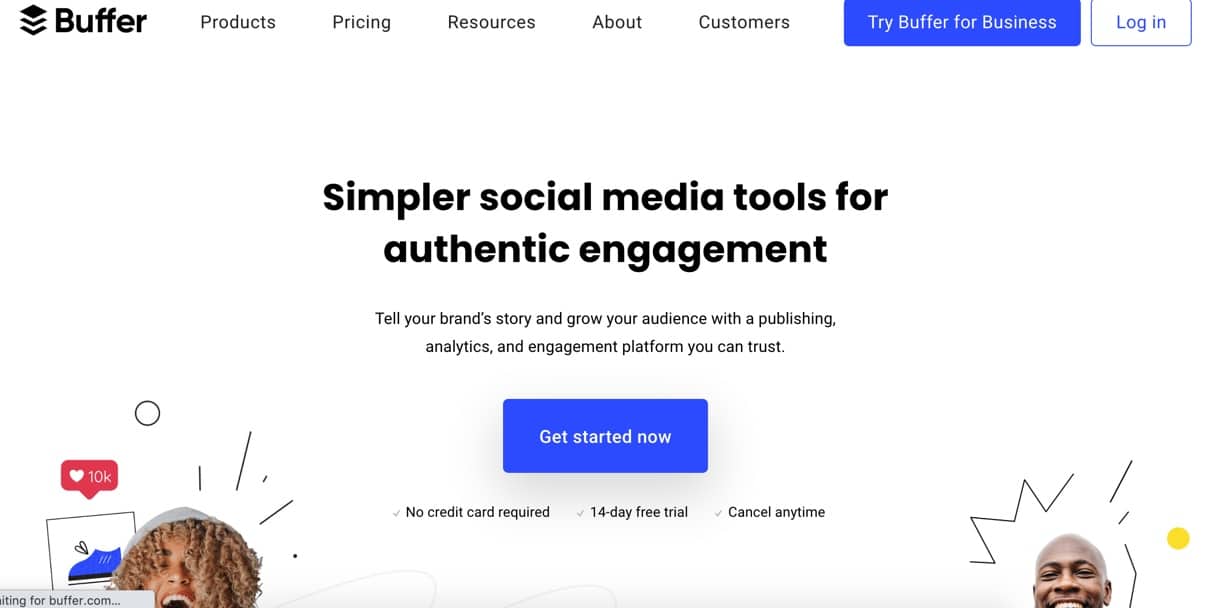 Buffer is another cool platform. It allows you to manage multiple social media profiles easily and includes many of the same features Hootsuite provides.
This platforms organizes your scheduled posts in a queue list format so you can easily scroll and monitor the posts that will go out on your various social platforms. Not too shabby!
Queue up thumb-stopping content across your social channels, and enjoy up-to-date Instagram tools. Measure your performance, create reports, and get insights to grow reach, engagement, and sales.
With many similar features to Hootsuite, some of my favourite Buffer features include the ability to easily schedule content while browsing the web with a Chrome extensions that they have available for you. Buffer also suggests the perfect moments to post based on follower activity – cool!
Buffer's free plan includes the ability to manage three social profiles, schedule up to ten posts, utilize their browser extensions and mobile apps (iOS and android) feature, create and schedule content using their image creator and GIF/video uploader, and shorten and track links.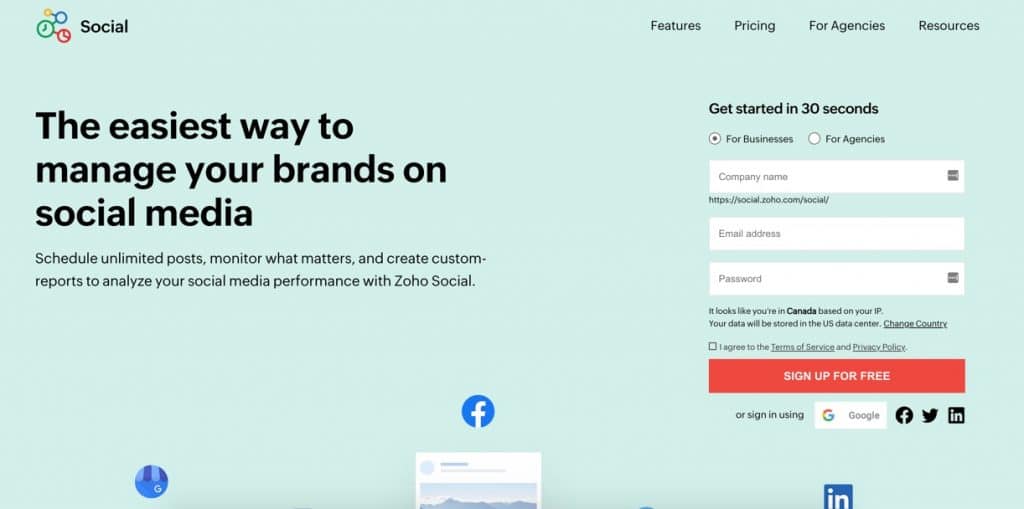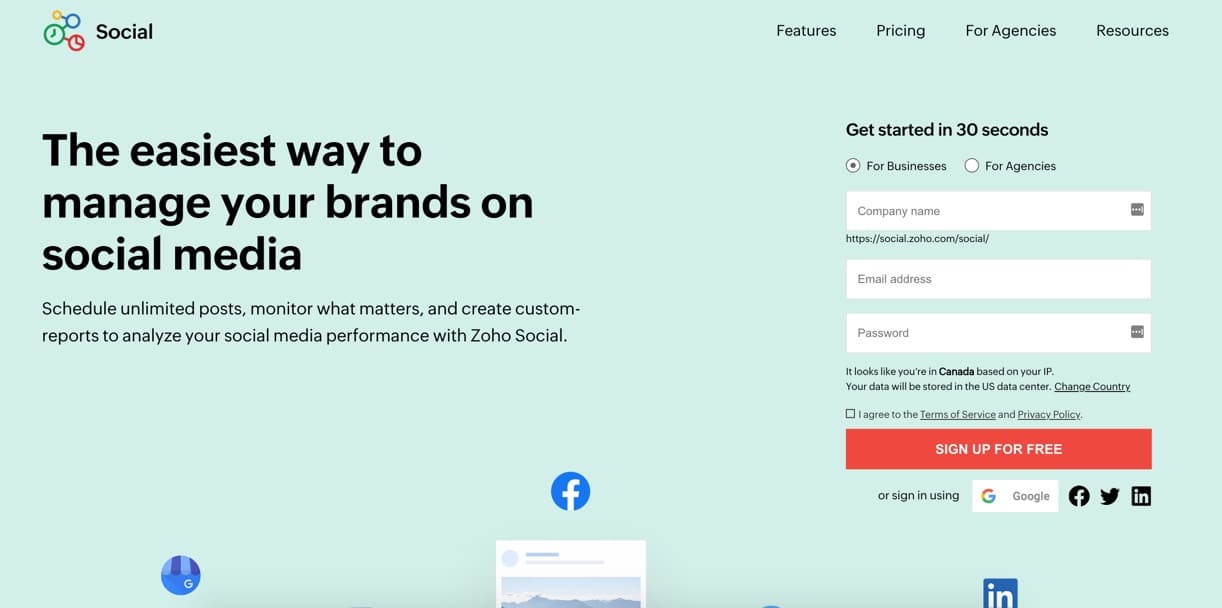 Zoho Social allows you the flexibility to schedule your posts when your audience is most likely to be engaged and active. They also provide you with an intuitive content calendar that helps you map out all of your posts for maximum organization.
Additionally, you can use it to monitor your mentions in real time so you can respond quickly. Zoho Social has a free version that offers you limited scheduling and monitoring.
Zoho Social has many of the same tools and features that the other platforms have, but they also have Facebook lead ads, advanced reporting features, a SocialShare browser plugin, and CRM integrations.
Zoho Social caters to agencies as well so marketers have the choice of choosing between the business or agency plans.  Zoho Social's free plan allows you to manage 1 brand, and includes the URL shortener and SocialShare browser plugin.
What I like about it is that it allows you to visualize your content pipeline with an intuitive publishing calendar that lets you organize your posts the way you want. Spread your posts across time, and make sure there's never a dull moment for your audience.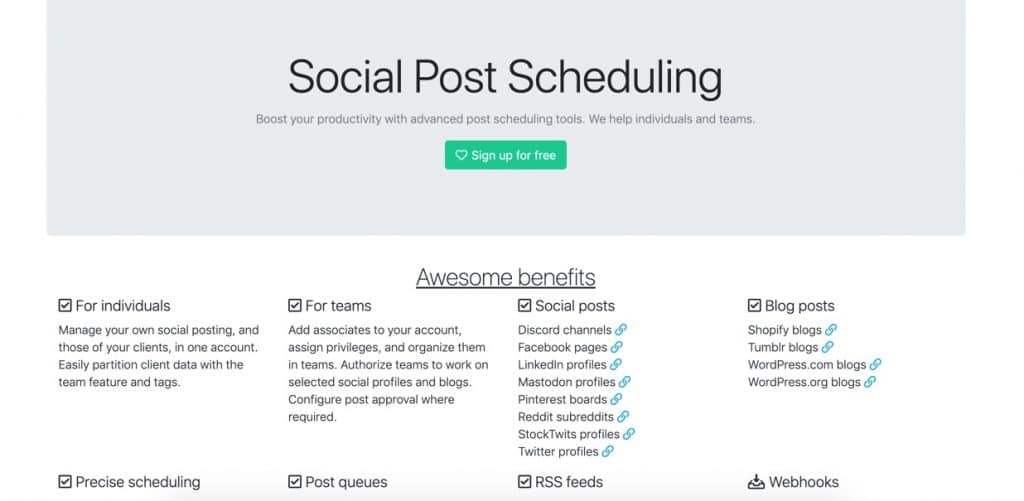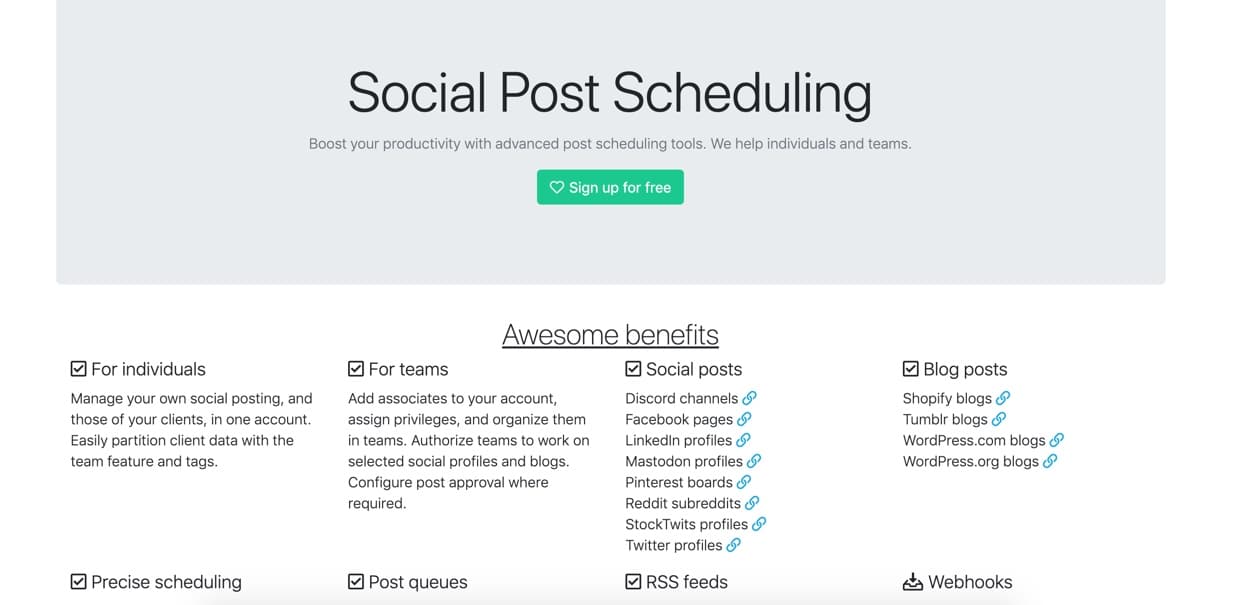 When you first look at SocialOomph, it may seem simpler than some of the other apps on this list. But it's SocialOomph's functionality that makes it a keeper. That's because SocialOomph makes it easy to upload multiple posts at once, then schedule when each post gets published. You have full control over when and where your content goes live, and you can even manage multiple platforms at once.
I am very impressed by the wide range of features they offer for multiple platforms – ranging from the typical features like scheduling and analytics, to some interesting ones like keeping your DM Twitter Inbox clean to help with increasing followers. They definitely offer a wide variety of unique features for Twitter, Facebook, LinkedIn, and Pinterest management, as well as the ability to manage and schedule blog posts.
While SocialOomph does indeed have a free plan, the features are limited and mostly lean towards Twitter management.
On the free plan you can do things like schedule tweets, track keywords, shorten URL's, and manage up to five Twitter accounts, but some of the more sophisticated features require a paid plan. If you're looking to manage multiple social platforms aside from Twitter you will need to pay to play.
My  advice is simple: check out as many free plans as you need, and go with the tool that fits how you like to work most closely. It's much easier to add a new tool into your existing workflow than try to fit a new workflow around the tool you've just paid for. Eventually, it will  save you time, grow your social presence, and possibly even make you more money as a freelancer, a local or even national business.
↓↓ Expert social media marketing that gets you more clients and more revenue ↓↓
Please follow and like us: